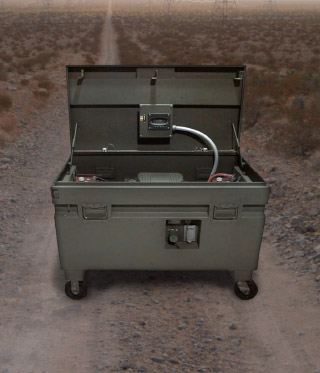 Product Overview:
The M-PRES 36 is a portable power source for use in the field that relies on a series of batteries which are charged by a photovoltaic, vehicle IV, AC power, generator or fuel cells.
The M-PRES 36 has a 3,600 Watt, 95% efficient switch-type inverter. It has been tested extensively for over three years under extreme heat, cold, humid and desert conditions.
The M-PRES 36 can be configured and adapted for mounting in military trailers, Conex boxes and any military vehicle.
Details and Specifications:
The M-PRES is housed in a weather-proof box with lifting handles.The box measures 2.0' W x 2.0' x D x 4.0' H.The box is vented using a fan and a weather-tight hinged opening that must be manually opened during operation and closed when not in use.
The M-PRES 36 has a 3,600W modified sine wave, 95% efficient inverter that can sustain a 6,000W power surge for motor startup.
The M-PRES 36 also contains deep-cell lead-acid batteries. It has 4 batteries with a capacity of 410 amp/hours each.
The M-PRES 36 contains:
Switch gear with a 175 amp., 24V DC main breaker.
50 amp., 24V DC breakers, 25 amp., 24V DC breakers and 10 amp., 12V breakers.
The switch gear also contains a 50 amp., 120V AC transfer switch and 120V receptacle breakers.
Ethernet connection for remote operation.
These allow the user to attach various accessories.
The M-PRES 36 contains a photovoltaic charge controller which allows the user to maximize battery charging. It will also equalize float and pulse but will not overcharge the batteries.
The M-PRES 36 has a recessed panel which contains a pin type IV plug with two 3/8" pins and a #4 gauge wire. It also has a single-pin type IV with one center 5/8" conductor and a circular ground connector 2/0 gauge wire along with:
12V accessory plugs that can jumpstart vehicles and charge a laptop computer.
Military-type water-tight connectors for various accessories and photovoltaic panels.
20 amp., 120V AC spec-grade duplex receptacle with a weather tight cover.
The M-PRES 36 has 375W photovoltaic hard panels or 360W photovoltaic flexible and foldable panels that are extremely durable.
The M-PRES 36 can be custom configured to meet all your needs.